How Effective Employee Relationships Improve Employee Retention
If you've read my blog post titled "How Thinking Styles Impact Employee Retention Rates", then you already know how the development of our evidence-based recruitment and management development software solution Talent Chaser has provided us with a great deal of data and insight into the reasons and solutions for high employee turnover. It has become clear that employee retention can be significantly improved by tailoring management practices to the thinking styles of employees.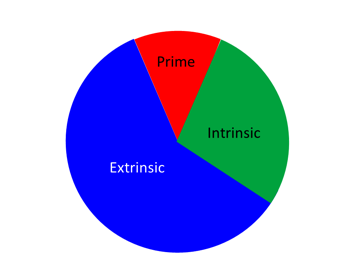 Based on data generated through the use of Talent Chaser's Performance Appraisal and Performance Profiling Modules, we now know that there are three distinct styles of thinking. We also know the frequency with which each occurs within the general population (see pie chart).
In the process, we discovered why a personality test should never be used to screen job applicants and developed performance profiling as an evidence-based alternative that can be used for this purpose.
Effective employee retention strategies are crucial for any organizations and at this juncture, I want to set down some techniques that can help improve the way employees are managed regardless of their style of thinking.
When I started my career, I was very definitely an Intrinsic Thinker. As a result, I was full of ideas, but a poor listener. One of the consequences of this (as I was to discover much later) was that I failed to build effective interdependent relationships with my co-workers and suffered from poor talent retention in the teams I managed. It took me many years to take on board the old adage that none of us is as strong as all of us and, in the interim, I lacked much of the help that colleagues would otherwise have made available.
Many years later, a colleague pointed out to me that I was too task focused and would do much better as a leader if I put the relationship first and the task second. Up until that moment, I had been completely unaware of the way I had been behaving and was initially somewhat taken aback and inclined (as I was in those days) to be dismissive. It's a strange thing, but a real truth will tend to reinforce itself as you go through life and, in this case, I began to realize that typically, when dealing with others, I bypassed the pleasantries and moved straight to the task at hand. The more I thought about it, the more I began to see that my colleague was right. I vowed that in future I would always put the relationship first.
However, when I tried to put this into practice, it proved much harder than I had anticipated. Eventually, I developed three questions that I now always apply when I'm in discussion with other people.
Is what I'm about to say something that could damage our relationship?
Is there another way of handling this that could avoid damaging our relationship?
Is there a way to use this situation to strengthen our relationship?
Notice that these questions cover three relationship building issues:
Damaging
Avoiding damage
Strengthening
Initially, I tried just asking myself questions 1 & 3 but, with experience, I found that question 2 held the key to success because it made me focus more on the possibility of negative outcomes. I discovered that I was not only failing to put sufficient effort into relationship building but that this was part of a general failure to take proper account of potentially downside consequences — a common Intrinsic Thinker weakness.
Regardless of your own style of thinking, I recommend that you consider using these three questions yourself. In my case, it took me a while but I now always do this automatically whenever I'm in discussion with anyone. By doing this you also will become much better able to build long-term effective relationships and improve employee turnover rates in your organization.
Stay tuned and sign up for my blog posts! I'm going to describe each style of thinking in more depth and, as I do so, it will become clear why tailoring management practices to employee thinking styles is so important when it comes to reducing employee turnover rates.