How Collaboration Can Lower Employee Turnover Rates
During my development of the Talent Chaser software, I discovered two predominant styles of thinking when I replaced the personality test with the performance profile questionnaire: the Intrinsic Thinker and the Extrinsic Thinker.
It turns out that when with evidence-based recruitment these two styles of thinking are properly taken into account in the management of employees, employee turnover rates can be significantly reduced.
When I introduced you to the concept of the Extrinsic Thinker, I indicated that individuals with this style of thinking are typically strong collaborators and good listeners.
In this blog post, I'm going to flesh out the typical Extrinsic Thinker profile in a little more detail. As I do this, you should begin to see why it is that such thinkers need to be handled in a way that takes into account their style of thinking and how this will lead to improved employee retention. I'm also going to introduce you to the first and most fundamental link between extrinsic thinking and motivation.
The Extrinsic Thinker
Let's first remind ourselves of basic characteristics of an Extrinsic Thinker. These are as depicted in the image at right.
Also, let's keep in mind how this style of thinking evolves as depicted in the next graphic and remember that this self-reinforcing cycle is driven by the fact that we all like doing things we can do well.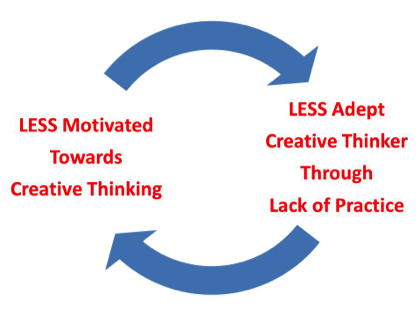 At his juncture, I now want to introduce you to the corollary of this motivational rule, namely that we all don't like doing things we can't do well.
The Extrinsic Thinker develops their listening skills at the expense of their creative skills and, because they are less adept at creative thinking, they become ever less motivated towards creative thinking.
One major consequence of this is that because Extrinsic Thinkers are not good creative thinkers, they also often want to avoid situations where creative thinking is required. In general, creative thinking is paramount in problem-solving situations and the need for problem solving typically arises in situations of change. So, as Extrinsic Thinkers go through life they often compensate for their lack of creative skills by becoming more change-resistant. As we will see in the next blog, Intrinsic Thinkers also acquire compensating traits but of an entirely different kind.
Over the years during which Talent Chaser has been deployed, it has become clear to me that everyone'spersonality evolves through the acquisition or loss of traits as a way of compensating for other trait combinations.
Analysis of correlations between Performance Profile and Performance Appraisal data reveals a number of retention-related issues that arise when Extrinsic Thinkers, who have become change-resistant, are placed in managerial positions.
Retention-Related Issues with the Extrinsic Thinker Manager
A higher proportion of demotivated subordinates.
Higher rates of employee turnover amongst those subordinates who are Intrinsic Thinkers.
An inability to hold subordinates properly accountable.
A moment's reflection reveals a fundamental irony namely that those employees who are more collaborative are often the same employees who are change resistant.
In upcoming Performance Appraisal series blog posts, real-life case history examples, drawn from data generated through the deployment of Talent Chaser's Appraisal Module will be used to describe exactly how managers and subordinates can handle this type of situation.
Sign up to our blog to stay tuned to my posts! I'll be talking about both motivational and accountability issues as they relate to styles of thinking and the implications of this for the implementation of effective employee retention programs and evidence-based recruitment.
Learn more about Evidence-Based Recruitment & Employee Management. Click on the link below for our animated demo.